Friday, February 18th, 2011
RECIPE: Creamy Mushroom Fettuccine
Creamy Mushroom Fettuccine
I love eating pasta.  And I love eating pasta in France, because they do Italian with such French flare.  Ratatouille over rigatoni.  Roquefort cream sauce over ribbons of pappardelle.  Brick-red pistou slathered on spaghetti.  It's just so good, and somehow, so French!
This pasta dish is sort of a giant mushroom duxelles piled on top of fettuccine.  I always write that crème fraîche is a magic ingredient, because it just refuses to separate.  You can do anything to it, and it is completely resilient.  Add some in with the mushrooms in this dish, and you have an instant cream sauce, full of woodland flavors of mushrooms, shallots, garlic, and thyme, that wraps itself around the expectant pasta.  I love this dish because it is earthy, and easy.  Perfect as a side next to some seared and sliced steak.  Or on its own with a drizzle of truffle oil.  Magnifique.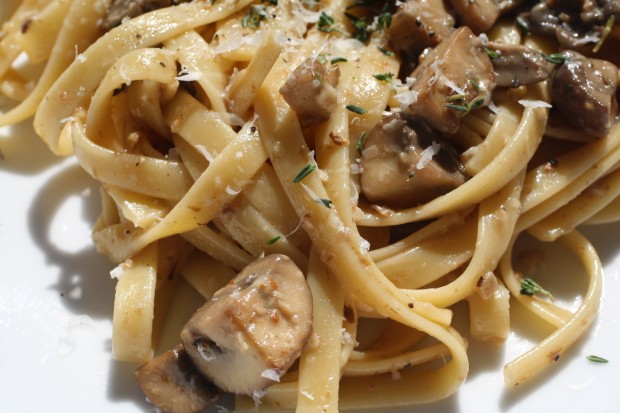 Creamy Mushroom Fettuccine
serves 4 to 6
1/2 cup low-sodium organic chicken stock (use water if vegetarian)
1/4 ounce dried wild mushrooms
1 tablespoon unsalted butter
1 tablespoon olive oil
1 pound cremini mushrooms, cut in eigths
1 extra large shallot, minced
2 cloves garlic, chopped
The leaves from 2 large stems fresh thyme
Kosher salt
Freshly cracked black pepper
1 pound dry fettuccine
1/2 cup crème fraîche
1/2 cup finely grated Parmesan
Bring a large pot of water to boil.  In a small covered pot, heat the stock and dried mushrooms together over medium heat, to reconstitute the mushrooms.  In a large, high-sided braising pot, heat the butter and olive oil over medium heat.  Add the mushrooms and sauté, stirring often, until golden brown, 6 to 7 minutes.  Add the shallot, garlic, and thyme, and season with salt and pepper.  Sauté on low until the shallot is soft, 1 to 2 minutes.  Remove the reconstituted dried mushrooms from the stock.  Add the stock to the fresh mushrooms and shallots, and cook until almost absorbed, 1 minute.  Turn of the heat, and cover the pot.
Salt the boiling water, and cook the fettuccine until al dente, reserving 1/4 cup of cooking water before draining.
In a mini food processor, blend together the reconstituted dried mushrooms and the crème fraîche.  Add the mixture to the fresh sautéed mushrooms, and stir to melt the crème fraîche into a sauce.  Toss in the pasta, and add just enough pasta water for the mushrooms mixture to lightly coat the strands of pasta.  Toss with Parmesan, and serve alongside a sliced seared steak, or on its own with a drizzle of black truffle oil.
print this recipe